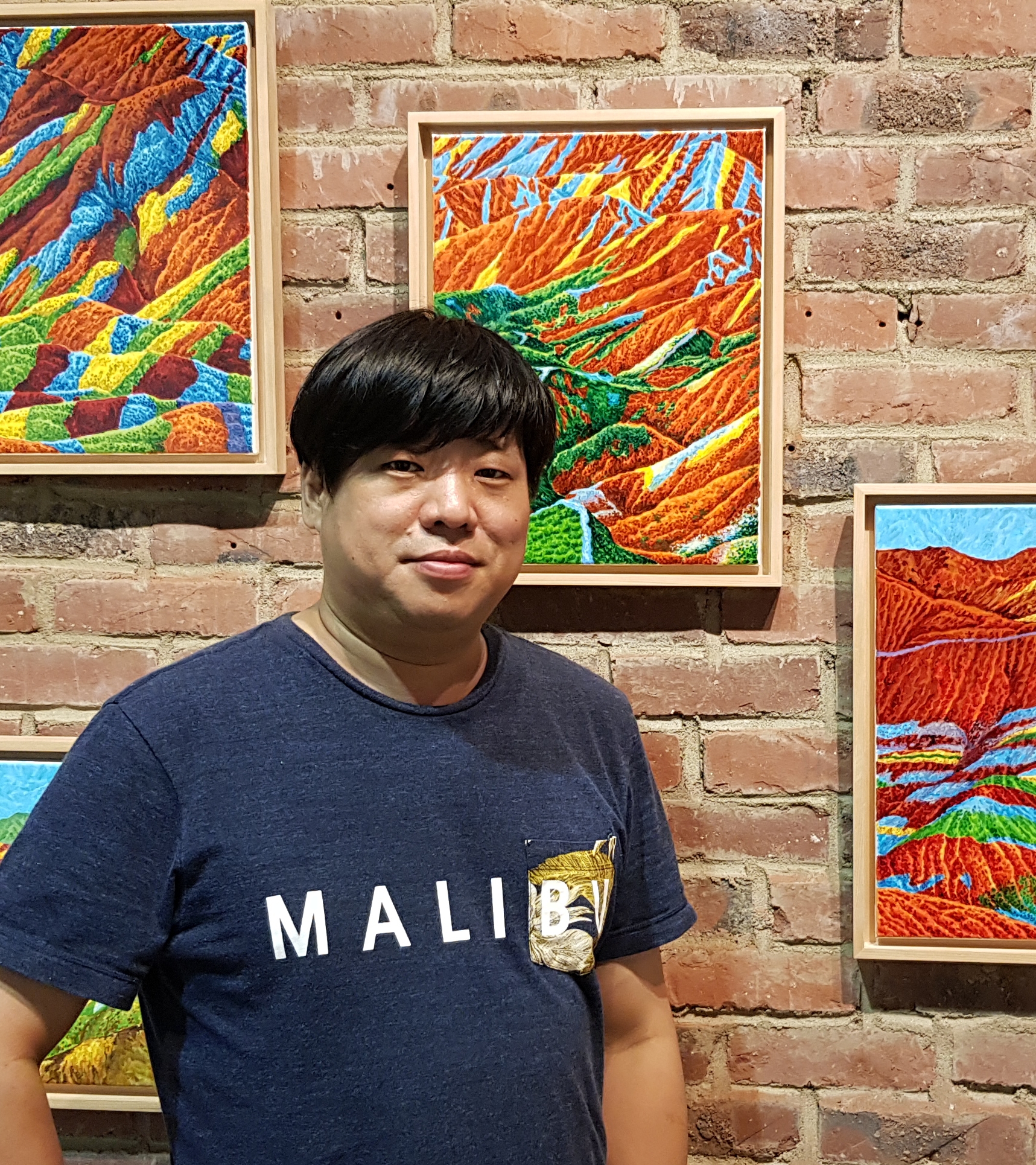 하루.K는 15회의 개인전과 국내외 다수의 단체전에 참여했으며, 2013년 신세계미술상을 수상했고 의재문화재단과 광주시립미술관의 창작스튜디오 레지던시 작가로 참여하는 등 활발한 작품 활동을 펼쳐오고 있다.
하루.K는 전통을 계승하고 자신의 정체성과 개성을 자유롭게 펼치며, 다양한 영역의 경계를 넘나들며 현대의 시대 감성을 산수화 속에 담아내고 있다. 그의 산수화는 조선 후기 진경산수화의 산수 유람의 흥겨움과 흥취를 가지고 있다. 이러한 산수화 표현은 이상향을 꿈꾸거나 산수와 벗하고자 했던 산수의 정신성과 영원성의 요소들을 담고자 했던 전통 산수화를 계승한다는 의지로 보인다.
작가의 작품에서는 전통 산수화의 계승적인 면을 이처럼 보여 주고 있지만 동시에 전통 산수화의 고답적인 그림 그리는 방식에 대한 강한 거부감을 볼 수도 있다. 그는 산수와 음식을 주제로 주어진 공간 안에 상대적으로 크기가 다른 소재를 뒤섞어 독특한 작품을 제작했다. 그의 산수화는 즐거운 것들로 넘쳐 남을 강조한다. 영원하지 않은 순간의 기억들 뒤편에는 현대인들의 분주하고 바쁜 일상들의 풍경은 보이지 않고, 삶의 즐거움만을 만끽하기 위해서 움직였던 일시적 찰나적 시간이 있다. 그의 산수화는 전통 산수화에서 강조했던 내면적 정신성을 품은 채 현대인이 생각하는 자연을 보는 유희적 이미지, 그리고 그 안에 순간적, 쾌락적 이면을 동시에 보여준다. 그는 복잡다단하고 변화무쌍한 현재의 감성, 끊임없이 영역을 확장해간 현대 사회와 문화의 이면을 보여주고 있다.​
Haru. K has been active as a participant in 15 solo shows and numerous group exhibitions both at home and abroad. He has been a recipient of the 2013 Shinsegae Art Prize and was a resident artist for the artist-in-residence programs provided by the Uijae Cultural Foundation and the Gwangju Museum of Art.
Haru. K inherits tradition, unfurls his identity and individuality at liberty, and imparts a contemporary atmosphere to landscapes while crossing the boundaries of various territories. His landscapes are particularly marked by feelings of mirth, excitement, and a taste of the journey taken from landscapes found in true-view landscape paintings of the late Joseon period. This expression of landscapes seems to be a showcase of his will to inherit traditional landscape painting which tried to contain the spirituality and eternity of mountains and waters while dreaming of a utopia.
His works demonstrate his inheritance of aspects of traditional painting and his potent repulsion of any high-toned attitude towards traditional landscape painting. Haru. K has made his own distinctive works through a mixture of subject matters of relatively diverse sizes, touching on the themes of landscape and food. His landscapes are emphatically overflowing with delightful things. Scenes of contemporary people's hectic everyday lives are not found in our momentary memories. His work is a simultaneous showcase of playful images symbolic of the nature that contemporary humans try to understand and the momentary, hedonic aspects hidden behind them, encapsulating the inner spirituality that traditional landscapes emphasized. His landscapes represent kaleidoscopic present emotions in a convoluted fashion, revealing the hidden side of contemporary society and culture that have endlessly extended their territories.